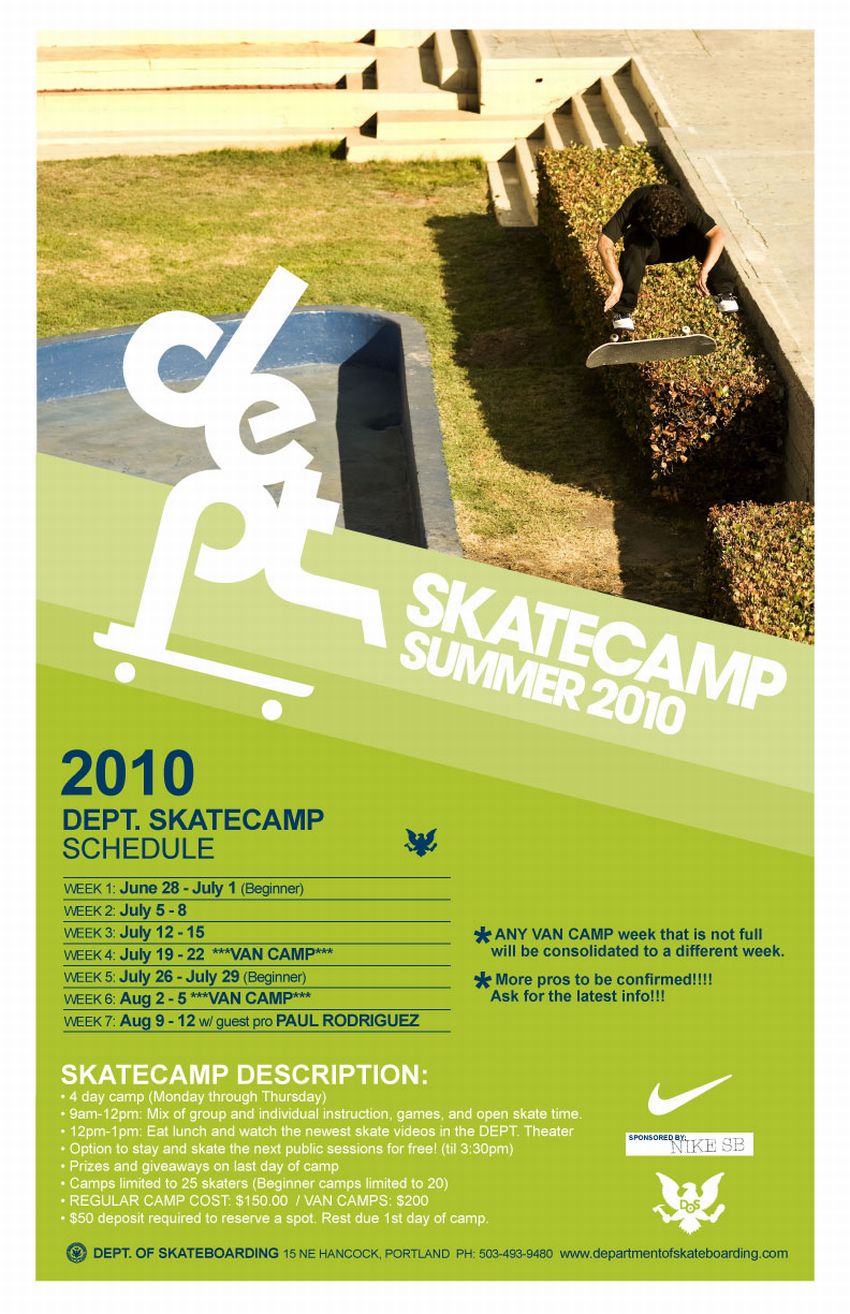 Hey Everyone-
The Dept. Summer 2010 Skatecamp schedule is available and ready for signups. This summer The Dept. will be offering 5 weeks of regular camp and 2 Van Camp weeks. The dates are as follows:
-Week 1 June 28-July 1 (Beginner Week)
-Week 2 July 5-8
-Week 3 July 12-15
-Week 4 July 19-22 **Van Camp Week 1** [FULL]
-Week 5 July 26-29 (Beginner Week)
-Week 6 Aug 2-5 **Van Camp Week 2** [FULL]
-Week 7 Aug 9-12 w/ Guest Pro Paul Rodriguez
If you've never been to one of our summer camps before, here's the lowdown:
Camps run Monday through Thursday from 9AM-Noon. There is a mixture of group and individual instruction, games, and open skate time. Campers are free to stay and skate through the public sessions until 3:30. There are prizes and giveaways on the last day of camp and each week is open to 25 skaters. Cost is $150/week.
Van Camps run Monday through Thursday as well but campers meet at The Dept. at noon to hop in the van. Each day they'll head to one of the many outdoor skateparks that surround Portland. The van returns to The Dept. by 5:30PM and skaters can get picked up then. Van Camps are open to 12 skaters each week and will be accompanied by 3 skate coaches. Lunch is provided and the cost is $200/week. (Van Camp weeks must fill up so non-full weeks may get consolidated)
This years Van Camp Park schedule:
-Week 4 July 19-22: Mon-Woodburn/Aumsville, Tues-Battleground,WA, Wed-Beaverton/Hillsboro, Thu-Hood River.
-Week 6 August 2-5: Mon-Corvallis, Tues-Canby, Wed-Tigard/Newberg, Thu-Springfield.
Week 7 features a visit from one of the greatest pros in the world Paul Rodriguez. We generally have additional pro visits throughout the summer and we'll do our best to update who might come through during other weeks.
Sign up for camp 3 ways:
1. online at departmentofskateboarding.com/skatecamp
2. call Cal's Pharmacy Skateboards 503-233-1237
3. visit us at the shop-
Cal's Pharmacy
11 NE Hancock
Portland, OR 97212
Comments are currently closed.