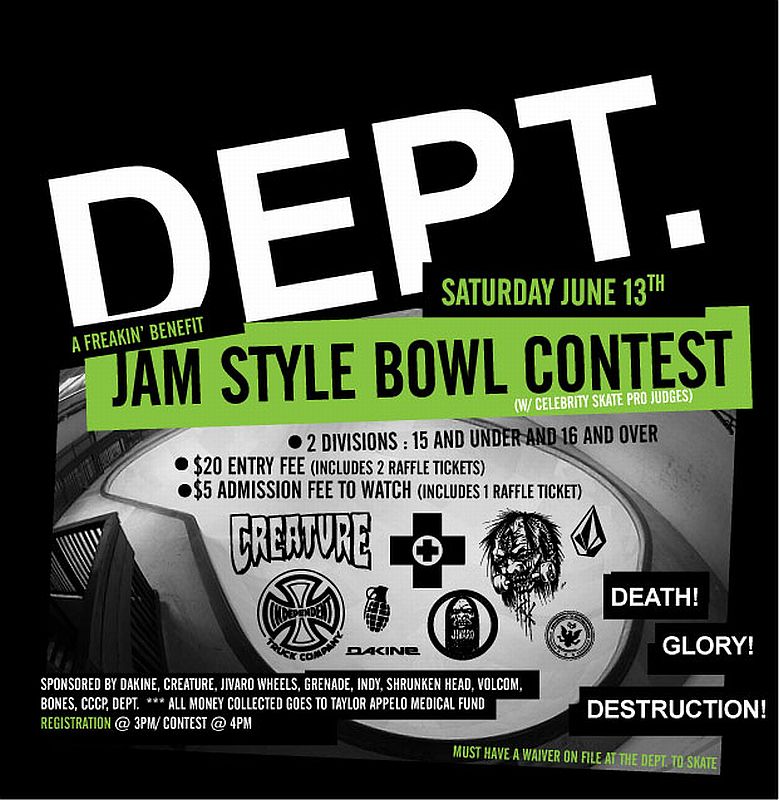 Alright, Listen Up!! This is serious and stuff. A few months ago, fellow skateboard brother Taylor Appelo was the victim of a brutal assault and beating at a MAX stop in Portland. You may have seen it on the news. Taylor is the brother of a real good friend of The Dept. Devin Appelo. Taylor had some very serious injuries from this attack and unfortunately was left with some monster medical bills due to being uninsured. Devin and Willis hit us up to host a benefit bowl contest and it's going down this Saturday June 13th. Here's where you come in. The whole point of this contest is to raise some cash. This is no time to be a tightwad. There is going to be some unbelievable bowl shredding going down and you need to either be a part of it or see it firsthand. There is going to be a $20 entry fee to enter the contest. That gets you entry and 2 raffle tickets for a serious product raffle that includes goods from all of the companies listed on the flier, as well as some that aren't. Chances are you're leaving with something. Also, there will be a $5 donation fee to get into the bowl room to check the contest. This gets you in as well as gets you a raffle ticket for some loot. We know times are tough but chances are you've got $5 you can scrounge up that will benefit Taylor a lot more than just getting you a few more bean burritos or PBRs.. Again, every cent of this $ is going to help out a guy that was in the wrong place at the wrong time and could've been any one of us. Make it a point to come down to The Dept. this Saturday and get involved!!
Very special thanks go to: Creature Skateboards, Jivaro Wheels, Dakine, Indy, Volcom, Bones, Grenade, Vox Footwear, Nike SB, Circa Footwear, Shrunken Head Skateshop, and Cal's Pharmacy.
(Devin photo courtesy of Joe Hammeke)
Comments are currently closed.