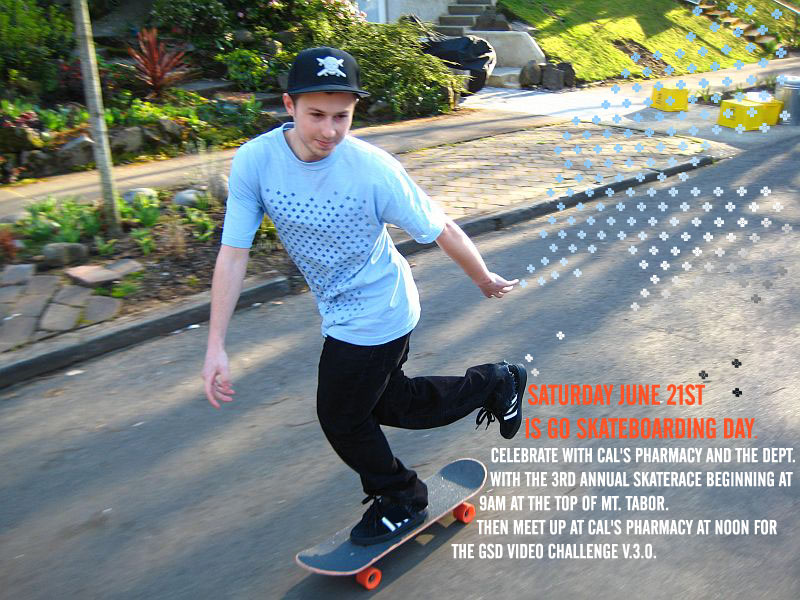 Hey, this Saturday is Go Skateboarding Day. We know, every day is Go Skateboarding Day but June 21st is the only day you can search Wikipedia and have it tell you it's Go Skateboarding Day so we're going with it. If you've been hanging around the skateboard scene for the last few years you may be aware that we have a few events we do every Go Skateboarding Day to try and maximize the fun and this year is no different. It all starts up Saturday morning at 9:00am at the peak of Mt. Tabor. We'll be SkateRacing again this year and if you're not the competitive kind, make sure to show up and just cruise it for fun. Details of the route will be available at the starting point.
Once the SkateRace is over and you've had a chance to chill for a minute, get your team together and head over to The Dept. The GSD Video Challenge v.3.0 will be kicking off at 12:00 noon. If you're not familiar with this challenge, think of Thrasher's King of the Road but instead of traveling cross country for weeks you're traveling across town for hours. If you don't know what I'm talking about, check this out.
This is a team event and there is a $50 entry fee to compete and be eligible to win money. Teams are welcome to participate just for the fun of it but will be ineligible for prize money. Again, meet up at The Dept. at 12:00 noon to go over the rules and regulations.
We want to emphasize that these events are supposed to be fun and in the spirit of true skateboarding and are in no way supposed to be taken too seriously. We appreciate the skateboard community in the city of Portland and the surrounding areas and want to positively contribute to this community however we can. Hopefully events like this help accomplish that. Thanks to everyone who has participated in the past and participate in Go Skateboarding Day every day. We'll see you on Saturday.
-Cal's Pharmacy/The Dept. of Skateboarding.
Comments are currently closed.